A total of 187 workers flew out of the country last week on Friday 7th May to work in various different farms and abattoirs in Australia.
The first lot of workers travelled on a chartered Qantas flight at midday whilst the second group travelled on the Solomon Airlines normal flight late in the evening. They have been recruited through the Pacific Labour Scheme (PLS) and contracted under the Regional Workforce Management (RWM) and Powerpac, two of the larger Australian Approved Employers (AE) who are currently recruiting workers in Solomon Islands in large numbers. They will be quarantined at the Grantham Quarantine Facility within the Lockyer Valley region for 14 days upon arrival before dispersing to their farms where they will be working for the next 2 and 3 years respectively. These workers are a mix of those who have already been in the Work Ready Pool and a few of those just recruited through the WRP. This will be the fifth group of workers to leave Solomon Islands since the labour mobility restart in November last year. With the recent mobilisation we now have 1053 workers in Australia with demand still growing significantly now that COVID-19 risk management initiatives are in place. Solomon Islands is currently ranked in the top 3 countries with high number of seasonal workers in Australia and we are working towards reaching our projected target of 2000 workers for 2021 by December.
All seasonal workers go through the Solomon Islands Government recruitment process including fitness testing, interviews conducted in English, drug tests specific for RWM, Medical checks and Police clearance.
All the workers attended a mandatory two-day Pre-Departure Briefing and training program last week at the St. Banarbas Cathedral LeafHaus. The briefings include key information on worker contract & agreements, country information, health management, ambassadorial responsibilities, COVID 19 regulations and other important issues.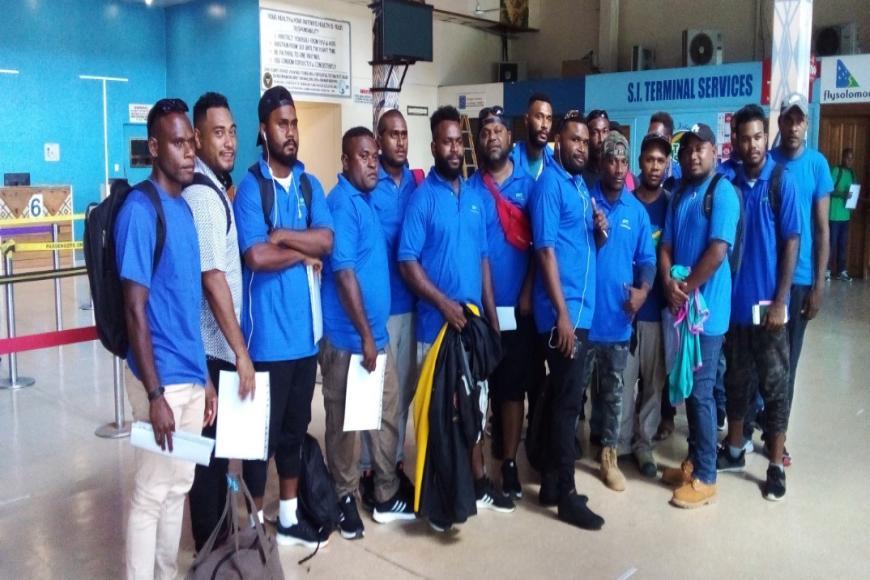 The Permanent Secretary of the Ministry of Foreign Affairs & External Trade, Mr Collin Beck, was one of the keynote speakers at the briefing. PS Beck whilst congratulating the workers in their selection also informs that the Pacific Labour Scheme is aimed at creating employment opportunities and generating income for unemployed people, building people to people links and opportunities to develop new and innovative business opportunities between the two countries.
He further indicated that the Solomon Islands government is really committed to increase the numbers of our workers compared to past years.
He also strongly reiterated the Zero Tolerance on Alcohol consumption, the consequences of Absconding and the importance of Labour Mobility Unit's Here To Work values such as Hardworking, Honest & reliable, Fit and healthy, Friendly and approachable and Proactive & adaptable.
"I strongly advise all workers to refrain from consuming alcohol and encourage you all to be good ambassadors of your country. Please be reminded that you are there to work whilst at the same time you are also promoting Solomon Islands under the Here To Work brand. Make good use of this opportunity to earn and save money and help your families when you return home. Your success is a success to the country and an investment to the program".
PS Beck also stated that absconding is not an option available to workers and there are significant negative impacts from such actions.
"Let me also remind you that if you have any intentions of leaving your designated place of work to work in another location then you will be breaching your visa conditions and you will be working illegally in Australia.
"The Ministry through the LMU does not tolerate absconders and those who have absconded or overstayed and are working illegally in Australia will be permanently blacklisted from the labour mobility programs".
In his final remarks Mr Beck encouraged the workers to respect their place of work and build a strong relationship with their employers.
The other keynote speaker during the briefing was the Australian High Commission's Counsellor Human Development, Ms Julie McCallum. In her welcoming remarks she acknowledges the excellent work done by LMU and SISS team and assured Mr Beck that the Australian government is committed to actively and continuously support the ministry's ambitious goal to reach the target of 5000 workers by 2023.
Ms McCallum further explained to the workers that her government appreciates the help they will provide to the farms and how this will have a positive impact to the industries in Australia. "This is not only for Australia but it will be a win-win for both countries".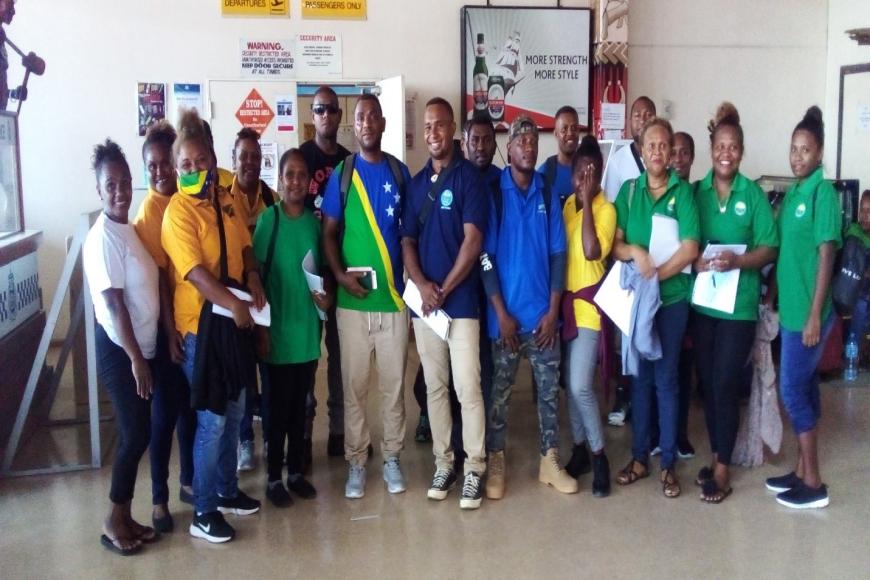 In encouraging the workers, she further reiterated what PS Beck said. "I encourage you all to observe the laws and cultures in Australia and do not drink and drive.
In her closing remarks Counsellor McCallum once again encourage the workers to enjoy their time while in Australia and make the most of this opportunity to help their families.
The labour mobility program has benefited many families over the past years. Both SIG and the Australian government are committed to continuously support this program in the future.
Solomon Islands labour mobility is managed by the Ministry of Foreign Affairs and External Trade through the Labour Mobility Unit.
///////////////