"The PACER Plus trade Agreement will be very vital for the Solomon Islands if we want to increase investment within the country, particularly by New Zealand and Australian investors".
These were the sentiments shared by the Director of External Trade Mr George Tuti while delivering his presentation, which is part of the national awareness campaign on Pacer Plus that is being rolled out in the Country.
On Tuesday, the External Trade team was in Taro, Choiseul Province to carry out the awareness on PACER Plus.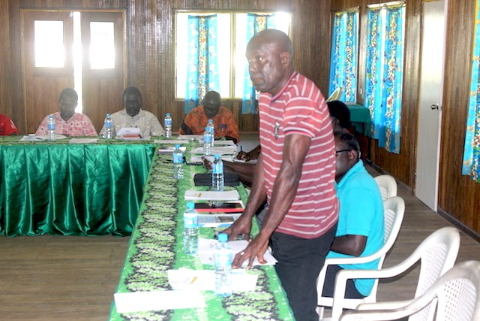 The awareness program is part of Solomon Islands preparation towards ratification of the PACER Plus Trade agreement.
Around 25 participants including several Members of the Provincial Government were present in another interactive session as the External Trade team carried out the awareness program in the Choiseul Provincial chambers.
The Choiseul Minister for Lauru Affairs Hon. John Matapaza welcomed the External Trade team to Taro saying that it was good to see such important awareness programs being brought out the far west side of the Country.
"We have not heard about this Trade agreement in the past and for us to hear it first hand from government officials today is an eye opener," Hon. Matapaza said.
Solomon Islands amongst 8 other Pacific Island countries signed onto the agreement in June 2017.
Solomon Island is yet to ratify the agreement and this awareness program is part of the preparations the country is undertaking towards ratification of the agreement.
The awareness program aims to inform stakeholders of the opportunities that are readily available to take advantage of and also the challenges that must be addressed in order for Solomon Islands to meaningfully participate under the PACER Plus agreement.
A specific session on Labour Mobility was also done as part of the awareness program.
At the end of the program, Participants were very grateful saying that it was good that the government reaches out to provinces with such awareness especially on Trade agreements.
So far the team has already completed programs in Honiara, Auki and Taro.
The next Province being earmarked for the awareness program is Temotu Province.
PACER Plus awareness talks in full swing.