The Solomon Islands Government through the Labour Mobility Unit (LMU) in the Ministry of Foreign Affairs and Trade (MFAET) last week held a successful recruitment drive for potential meat workers in Honiara.
The recruitment drive was a success with around 300 potential meat workers undergo fitness assessment, colour blindness test, strength test and interviews.
The recruitment is a first step of the preselection process for finalizing the pool of workers for the Australian meat employers to interview.
The employer will be in country in October to conduct in depth assessment, undertake interviews and tests on the preselected pool before a final offer is made.
To be eligible for the meat industry potential workers must meet specific requirements including, be 21 – 42 years old, be fit and healthy, drug free, and have a valid passport.
The Australian meat industry is well regulated and given its strict requirements workers had to undergo fitness assessment, colour blindness test, strength test and interviews.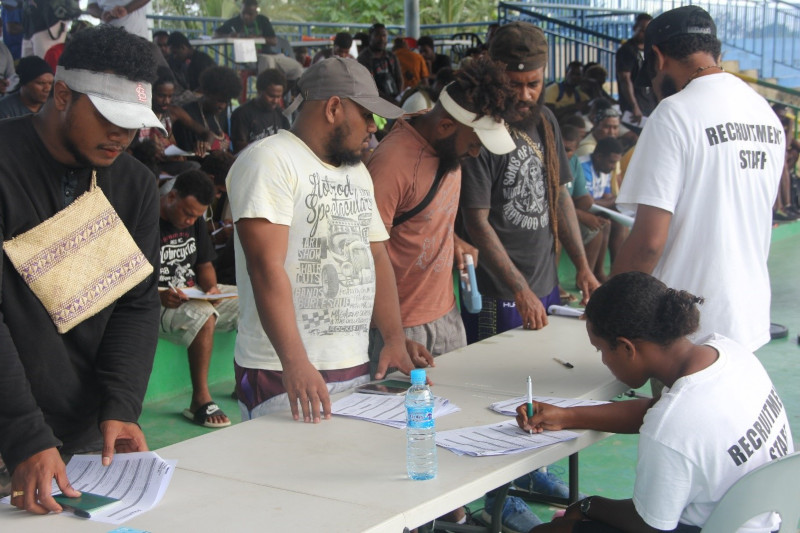 Director of Trade, George Tuti was pleased with the outcome of the recruitment and the enthusiasm of those that have taken time to participate in the recruitment.
"I am pleased with the positive response from the public to participate in the recruitment drive.
"The labour mobility schemes are demand driven, meaning that the Labour Mobility Unit would only recruit for workers when Australia Employers requests additional workers from the Solomon Islands.
"It is prudent for our people to note that we are deeply dependent on the demand and need for workers from Australian employers.
"For Solomon Islands, the labour mobility schemes are truly life changing experiences providing employment opportunities for many eligible men and women to improve their lives and standard of living including supporting families and building communities," the Director of External Trade said.
Meanwhile the Labour Mobility Unit will be undertaking another recruitment drive for meat workers in early November.