TRADE Commissioner in the Ministry of Foreign Affairs and External Trade, Barrett Salato has reiterated infrastructure challenges as the number one impediment to trade development in the Solomon Islands.
Mr. Salato made this remark at the start of the trade in goods and trade in services PACER+ national dialogue in Honiara on Tuesday 25th October.
Addressing a line-up of senior public servants, members of the private sector and a visiting delegation from the Samoa based PACER Plus Implementation Unit (PPIU), the Trade Commissioner urged better coordination to addressing this issue.
Commissioner Salato said during initial stages of PACER+ negotiations, Forum Island Countries clearly identified physical infrastructure development as key to unlocking trade potential in Island Countries.
"The dilapidated or nonexistence of infrastructure that connect producers to buyers and consumers makes it difficult, and in many cases very expensive, for resources owners to utilize their resources and participate in trade and economic activities.
"It discourages national productivity," he emphasized
He stressed that Solomon Islands needs to build better and quality roads, bridges, and wharves that strategically connects producers to buyers and exporters.
"By doing this, we can also attract foreign investment flow into the country.
Apart from infrastructure on land, the Trade Commissioner said Inter-islands connectivity through shipping, logistics and freighting should be such that producers in the provinces can easily bring their products to the point of export.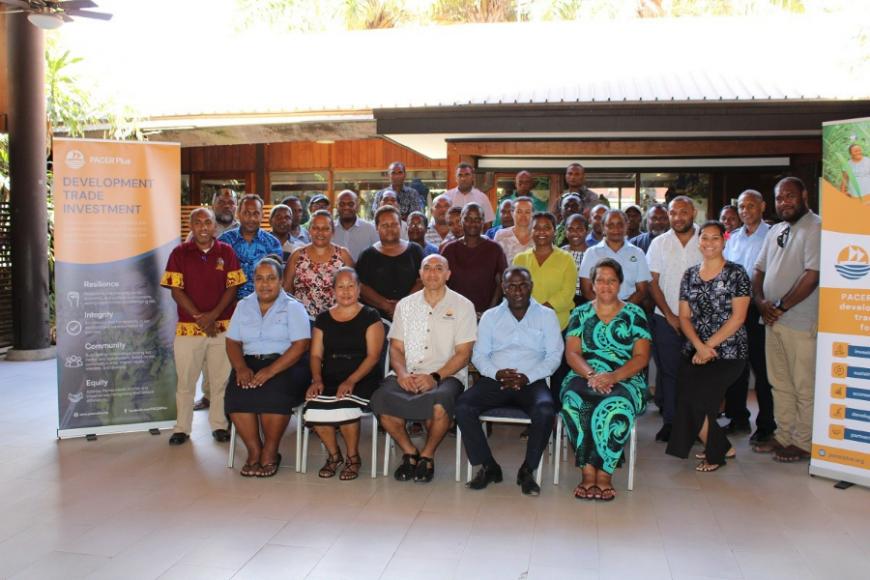 "We also need to establish trade enabling environment that is conducive for industries to thrive and grow.
In that, he said trade-related policies, legislations and regulations should be coordinated and consistent across line ministries and government agencies, with a view to facilitate trade.
"At the moment we have some policy inconsistency or in some cases counterproductive to encouraging industry growth.
"For example, when we have a policy that recognizes the private sector as the 'engine of growth', yet we put in place customs and ports regulations that are cumbersome, inefficient, inhibiting and with hefty costs to industries, we are not really encouraging growth.
Mr Salato said the role of government agencies should be to facilitate trade flow in a smooth and less hindrance manner.
////
Click here to obtain MFAET previous media releases
For more information or Media related enquiries, please contact.
Brian Lezutuni, Chief Information Officer, Ministry of Foreign Affairs and External Trade.
Email: This email address is being protected from spambots. You need JavaScript enabled to view it. Phone: 21250 Mobile: 7701753