On 13th January 2017 the Minister for Foreign Affairs and External Trade, Honourable George Milner Tozaka, Commissioned the country's new Permanent Representative to the United Nations, His Excellency Ambassador Robert Sisilo.
The Commissioning Ceremony, held at the Ministry of Foreign Affairs and External Trade was witnessed by the Acting Permanent Secretary, Mr. Joseph Ma'ahanua and senior officials from the Ministry.
Minister Tozaka in Commissioning Ambassador Sisilo indicated that his tasks are to represent and promote the interests of the Government of Solomon Islands.
"The Government and people of Solomon Islands expect you to provide sound advice and deliberation on all matters during your tenure of office".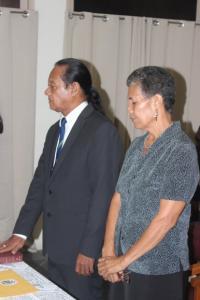 Ambassador Sisilo in acknowledging his appointment highlighted that "the Mission is charged with a hugely ambitious and expansive goal of defending and promoting our interests in an international organisation that boasts a membership of 193 sovereign states and all, big or small, rich or poor, doing exactly the same thing".
H.E Sisilo is one of the country's senior diplomats previously posted as Solomon Islands' Ambassador in Brussels, Belgium, and has served as Permanent Secretary to the Ministry of Foreign Affairs and External Trade, and also Permanent Secretary in the Ministry of Police, National Security and Correctional Services. H.E Sisilo was recently the Head of Solomon Islands Trade Negotiations Envoy and Lead Spokesperson for the Pacific Island Countries on the EPA negotiations with the EU and PACER-Plus negotiations with Australia and New Zealand.
The newly appointed Ambassador is expected to depart for New York early next week.