The Minister for Foreign Affairs and External Trade, Honourable Milner Tozaka accompanied by the Deputy Secretary for Foreign Affairs & External Trade, (MFAET), William Soaki attended a High Level Dialogue on Climate Change and Biodiversity last week at the Pacific Community (SPC) Headquarter in Noumea.
Other Pacific Island Leaders, Foreign Ministers and Envoys were also present. Australia and New Zealand were represented at ministerial level.
The dialogue coincides with the visit of the French President, His Excellency Emmanuel Macron to New Caledonia.
The Pacific region relies predominantly on biodiversity and natural resources for its livelihood, economic development, and cultural and social wellbeing, thus, the call for the global community to adopt higher ambitions for greenhouse gas reductions, which is the pathway for safeguarding a sustainable future for island countries.
SPC facilitated the High Level Dialogue which was co-chaired by Jean-Yves Le Drian, French Minister for Foreign Affairs and His Excellency Philipe Germain, President of the Government of New Caledonia and Chair of the Pacific Community Conference.
Speaking during the Dialogue, Hon. Tozaka informed that Solomon Islands is progressing policies, legislative change, marine protected areas, and protection of biodiversity. Under the interventions by the government to address climate change impacts and biodiversity, Solomon Islands has;
Ratified the UN Framework Convention on Climate Change in 1992 and Kyoto Protocol in 2003,
Setting up of a dedicated Ministry of Environment, Climate Change, Disaster Management & Meteorology in 2008 to coordinate all climate change and disaster risk issues in the country,
Development of a National Adaptation Plan of Action in 2008 that highlighted urgent adaptation priorities for the country,
Developed a National Climate Change Policy in 2012 that provide further guidance to address climate change,
National Development Strategy which provides overall country guidance,
Ratification of the Paris Agreement in 2016,
National Biodiversity Strategic Action Plan (NBSAP) 2009,
Integrated Oceans Policy,
Amendment of Wildlife Protection and Management Act 1998,
Protected Areas Act 2010,
Review of the Environment Act 1998,
Coral Triangle Initiative (CTI),
World Heritage Program on Rennell Island.
In a private dinner organised by the Pacific Community and hosted at the French High Commission, the Pacific leaders directly interacted with H.E President Macron. He led the discussions on a number of regional and global issues, including climate change and biodiversity.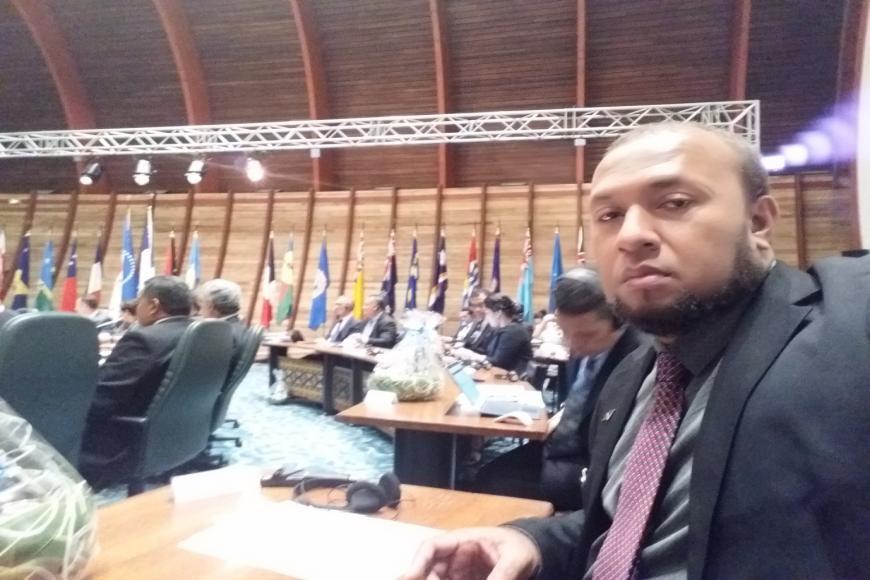 The Pacific leaders welcomed the French President's affirmation on the commitment by France to the security, stability and prosperity of the Pacific and its people.
They also acknowledged the positive assurance from the President to support the call for the Asia Development Bank (ADB) to increase funding for the Pacific in areas relating to climate change mitigation, adaption and resilience needs.
President Macron announced that he intends to visit the Pacific region every year during his tenure in office.