The Solomon Islands High Commission in Canberra had the unique opportunity to introduce two young women students from the Australia National University (ANU) to the world of diplomacy and politics. On 28 October, for a one day event, the Girls Leadership Network (TGLN) matches participants with High Commissions and Embassies in Canberra and give them the chance and opportunity to experience work at the Missions.
Two young girls, Kriti Mahaja and Emily Free, spent the day touring the Solomon Islands High Commission, learning about its operations and it's foreign policy priorities. They met and discuss with the High Commissioner, Mr. Robert Sisilo, Deputy High Commissioner, Walter Diamana and Administrative Assistant Sajid Anwar. During the programme, both contributed in a meaningful way to the work of the High Commission.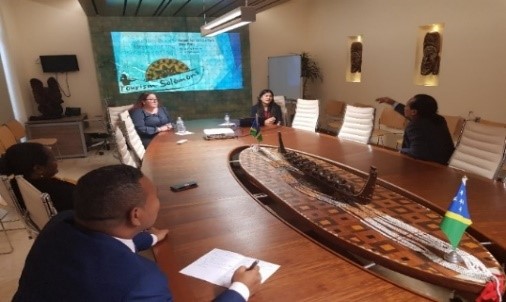 As part of their assignment they were allocated an office in the High Commission and work on a power-point presentation focusing on "Tourism Boost Target for Solomon Islands: Target for 2023 – Two Year Plan". Both presented their work to the staff of the High Commission and High Commissioner, Mr Robert Sisilo acknowledge and commend the two girls for their keen interest about the country and recommendations proposed to boost tourism in the Solomon Islands in post COVID era. For instance, in their recommendations, they highlighted that focus on promotion should be on;
Gap Year Students
Adventure Tourism
Destination Weddings
Retirees
In addition, Push for Solomon Islands to be included in the Pacific Travel Bubble (if safe to do so) and start Wait Lists for packages, flights etc should be explored.
Mr. Sisilo is hopeful than the recommendation from the presentation by the two young girls can be considered by the Ministry of Culture & Tourism and the Solomon Islands Visitors Bureau as it would add value and support to the efforts made to boost and revive the tourism industry which is badly affected by the impact of COVID-19.