Two Solomon Islands diplomats have been commissioned by the Governor General Sir Frank Kabui in Honiara today.
His Excellency, Joseph Pius Waleanisia has been commissioned as the new Solomon Islands Ambassador to the Republic of China (ROC), Taiwan while His Excellency John Patterson Oti was commissioned as Solomon Islands Non-resident High Commissioner to the Republic of Vanuatu.
Mr Oti is the current Solomon Islands High Commissioner to the Republic of Fiji, based in Suva.
Mr Waleanisia was recently the former Secretary to the Prime Minister prior to being appointed as Ambassador.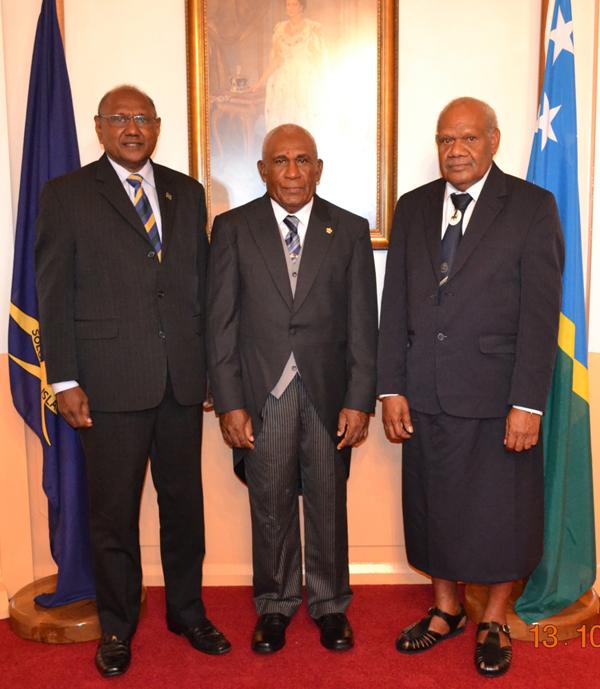 The Governor General Sir Frank Kabui expressed confidence in the two diplomats and reminded them of their foremost tasks to represent and promote the interests of the Government of Solomon Islands in the country to which they have been accredited.
"The Government and people of Solomon Islands expect you to provide sound advice and deliberation on all matters during your tenure of office since you are the link between Solomon Islands Government and the Government of the countries to which you have been accredited," Sir Frank said.
Sir Frank said the maintenance of permanent diplomatic missions overseas is a costly exercise and urged the two Envoys to exercise prudent cost-saving measures that will not compromise the effective discharge of their duties.
The Commissioning ceremony was witnessed by the Minister of Foreign Affairs, Hon. Milner Tozaka, Acting PS of Foreign Affairs, Mr. Joseph Ma'ahanua, Dean of the Diplomatic Corps, Ambassador of ROC (Taiwan), Officials from the Ministry of Foreign Affairs, families, relatives, and friends of HE Joseph Pius Waleanisia and HE John Patteson Oti.
Two Envoys are expected to leave for their duties this weekend.
Government Communications Unit